Big capacity wheat flour mill
Brief Introduction:
These machines are mainly installed in reinforced concrete buildings or steel structural plants, which are generally 5 to 6 storey high (including the wheat silo, flour storage house, and flour blending house).
Our flour milling solutions are mainly designed according to the American wheat and Australian white hard wheat. When milling a single kind of wheat, the flour extraction rate is 76-79%, while the ash content is 0.54-0.62%. If two kinds of flour are produced, the flour extraction rate and ash content will be 45-50% and 0.42-0.54% for the F1 and 25-28% and 0.62-0.65% for the F2. Specifically, the calculation is based on the basis of dry matter. The power consumption for the production of one ton of flour is no more than 65KWh on normal conditions.
Product Detail
Product Tags
Product Description
Big capacity wheat flour mill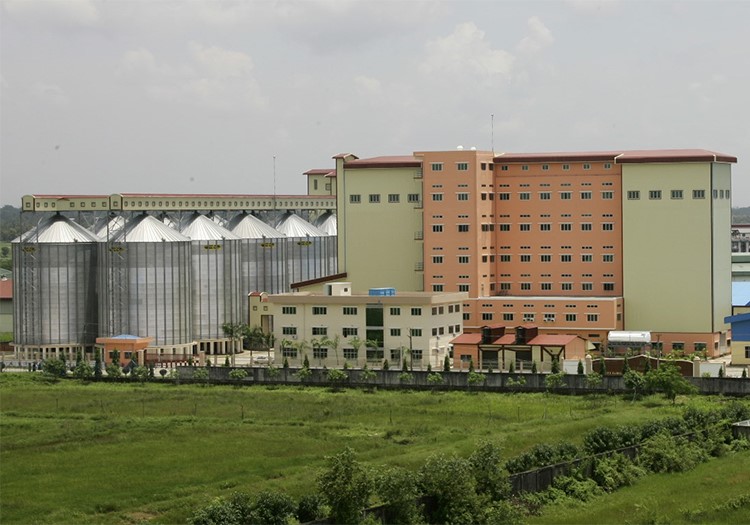 CLEANING SECTION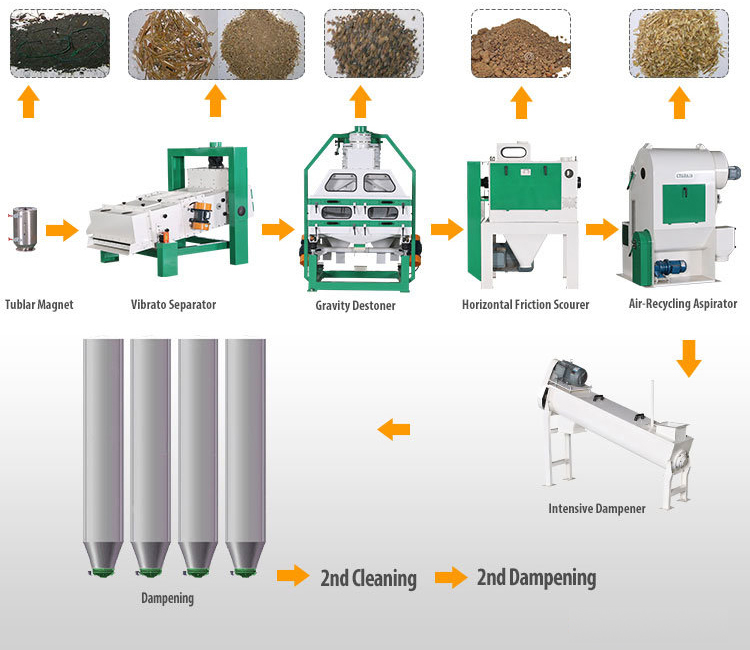 In the cleaning section,we adopt drying type cleaning technology.it normally includes 2 times sifting,2 times scouring,2times de-stoning,one time purifying,5 times aspiration,2 times dampening,3 times magnetic separationand so on.In the cleaning section,there are several aspiration systems which can reduce the dust spray-out from the machine and keep a good working environment.The above flow sheet which can remove most of thecoarse offal,middle size offal and fine offal in the wheat.The cleaning section is not onley suitable for wheat imported with lower moisture and but also suitable dirty wheat from local customers.
MILLING SECTION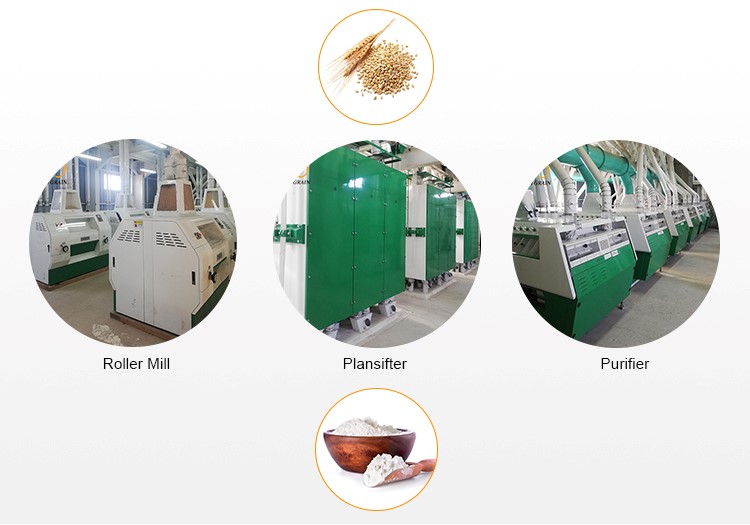 In the milling section, there are four types of systems to mill the wheat to flour. They are 5-Break system, 7-Reduction system, 2-Semolina system and 2-Tail system. Purifiers are specially designed to get more pure semolina sent to the Reduction which improves the flour quality by a large margin. The rollers for Reduction, Semolina, and Tail systems are smooth rollers which are well blasted. The whole design will insure less bran mixed into the bran and the flour yield is maximized. 
Because the well designed pneumatic lifting system, the whole mill material is transferred by High pressure fan. The milling room will be clean and sanitary for aspiration adoption.
Flour Blending Section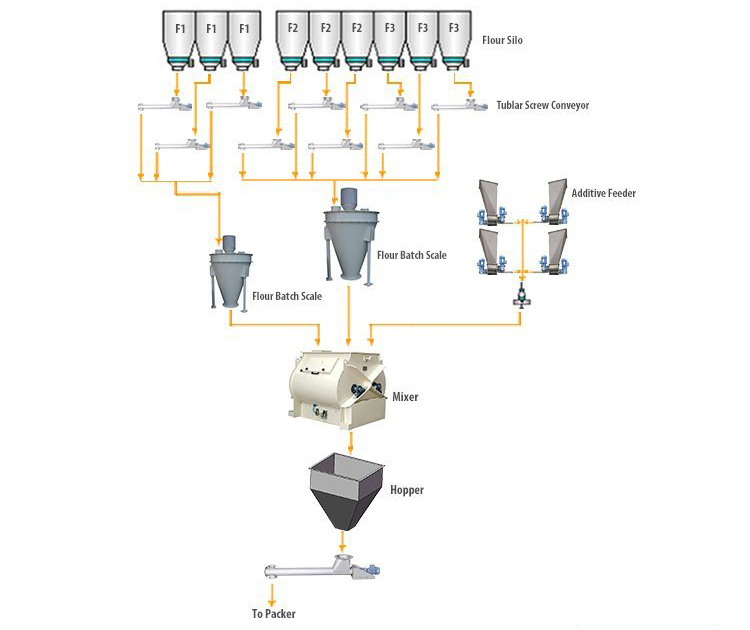 Flour blending system mainly consists of pneumatic conveying system,bulk flour storage system,blending system and final flour discharging system.It is the most perfect and efficient way to produce tailored flour and keep the stability of flour quality.For this 500TPD flour mill packing and blending system,there are 6 flour storage bins.The flour in storage bins is blown into 6 flour packing bins and packed finally.The flour will be well mixed when they are discharged from the flour bins.The screw conveyor will be controlled by frequency convertor to ensure the flour the flour is discharged by a right capacity and proportion.The flour quality will be stable after mixing process which is very important flour milling.In addition,bran will be stored in 4 bran bins and packed finally.
Packing Section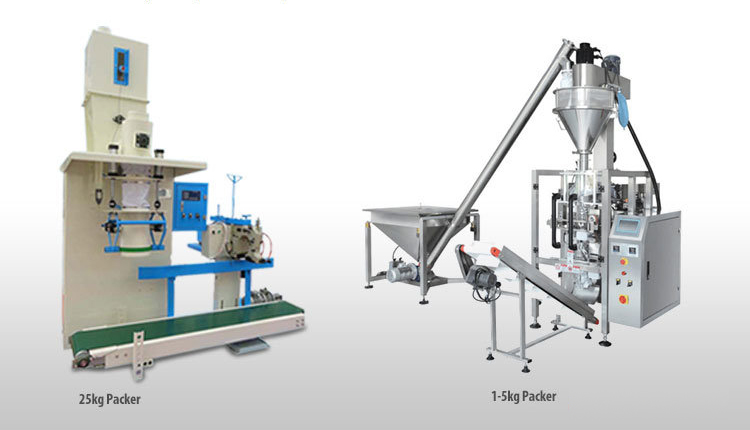 All the packing machines are automatioc.The packing machine has features of high measuring accuracy,fast packing speed,reliable and stable working.It can weigh and count automatically,and it can accumulate weight.The packing machine has function of fault self-diagnosis.It's sewing machine has automatic sewing and cutting function.The packing machine is with sealed type bag-clamping mechanism,whih can prevent material from leaking out.The packing specification includes 1-5kg,2.5-10kg,20-25kg,30-50kg.The clients can choose different packing specification according to requirements.
Electrical Control And Management

In this part, we will supply electrical control cabinet, signal cable, cable trays and cable ladders, and other electrical installation parts. The substation and motor power cable is not included except customer specially required.PLC control system is an optional choice for customer.In PLC control system, all the machinery is controlled by Programmed Logical Controller which can insure the machinery running stably and fluently. The system will make some judgments and do reaction accordingly when any machine is in fault or stopped abnormally. In the same time it will alarm and remind the operator to settle the faults.Schneider series electrical parts are used in out electrical cabinet. The PLC brand will be Siemens, Omron, Mitsubishi and other International Brand. The combination of a good designing and reliable electrical parts insures the whole mill running smoothly.
TECHNICAL PARAMETER LIST
| | | | | |
| --- | --- | --- | --- | --- |
| Model | Capacity(t/24h) | Roller Mill Model | Worker Per Shift | Space LxWxH(m) |
| CTWM-200 | 200 | Pneumatic/electric | 6-8 | 48X14X28 |
| CTWM-300 | 300 | Pneumatic/electric | 8-10 | 56X14X28 |
| CTWM-400 | 400 | Pneumatic/electric | 10-12 | 68X12X28 |
| CTWM-500 | 500 | Pneumatic/electric | 10-12 | 76X14X30 |
---
Previous:
Twin Screw Volumetric Feeder
Next:
Drawer Magnet
---